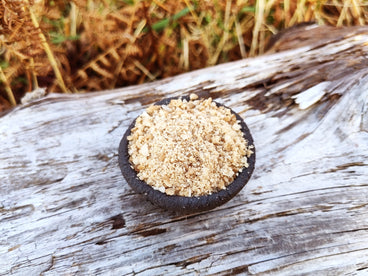 Posted on 17th November 2023
Unlock Culinary Delights with Recipes Using our Smoked Sea Salt
It is our pleasure to introduce to you our smoked sea salt. Here we will describe how Skye, as always, inspires our product. After sharing some recipe ideas, we will explain the natural smoking process and its Scottish history.
How Our Inspiration Was Ignited
Skye is an island forged from fire. Scarlet lava raged forth from the Earth's mantle, sculpting the mystical shapes of the Old Man of Storr and chiselling the rugged, mighty Cuillins into being. This lava cooled giving us the raven, igneous foundation of our isle. When Skye's traditional black houses, of dry-stone walls and thatched roofs, were erected, they were built around the family's fire. Black houses had no chimney; the smoke from the fire wafted through the thatch and permeated the walls with a rich smoky aroma. Today, that same aroma reminds me of spending winter evenings watching the entrancing spectacle of immense clouds rising from the sea and sharing their raindrop treasure with the land, giving life to our beautiful rivers and waterfalls. Meanwhile indoors, I am cosily cradled under blankets, protected by the tender warmth from a crackling fire.
Tasty Smoked Sea Salt Flavour Profile and Recipe Ideas
Now we have encapsulated that essence into our Isle of Skye smoked sea salt. We use a natural smoking process to infuse our mineral-rich, award-winning pure sea salt crystals with a sweet and woody smoky flavour. You will be pleased to know that there is a myriad of mouth-watering recipes for you to try using our smoked sea salt crystals. Used in a dry rub or BBQ dressing, it enhances the flavours of the meats. It divinely harmonises with the tastes in cheese and avocado dishes. Not forgetting that its addition takes chocolate and ice cream desserts to sensational new heights. We hope gourmet cooks will find dishes made with our smoked sea salt to be a real triumph amongst their family and foodie friends (like it has been amongst ours)!
The Natural Smoking Process – Welsh Homestead Smokery's Burning Passion
Our natural sea salt crystals are smoked by the Welsh Homestead Smokery, who are an artisan, family-run company based in Wales, a kindred Celtic-heartland. The Welsh Homestead Smokery are loyal collaborators of ours and are very kindly teaching us their craft from their wealth of expertise. The sea salt crystals are cold-smoked. This is where the salt is exposed to only the smoke from a wood fire, but not the flames. Therefore, it is done at a lower temperature than hot-smoking, ensuring that the mineral richness of our sea salt crystals is preserved. Our sea salt is smoked for a long-period of time to guarantee a full and definite smoky taste.
The Scottish History of Smoked Foods – Stoking the Fires of History
We are stoking the fires of history by continuing the ancient tradition of smoking foods. Humanity has been smoking food since caveman times. Originally used with meats and fishes, smoking expanded to all sorts of foods, such as cheeses, garlic, chillies and, of course, salt. Scotland has a large coastline and many island communities, so has always had a large fishing industry. Salmon, herring, mackerel and pollack are all fishes found in waters around Skye. Prior to the invention of refrigeration and vacuum-packing, curing and cold-smoking the fish was the main method of preserving them. Burning wood releases an array of natural chemical compounds, including phenols, which have antimicrobial properties. These helpful compounds are absorbed by the foods being smoked, preventing food spoilage.
As well as saving your food from decay, these natural smoke compounds can save your dish by giving that delicious sweet and woody smoky flavour - which now can be yours to enjoy using our scottish smoked sea salt !