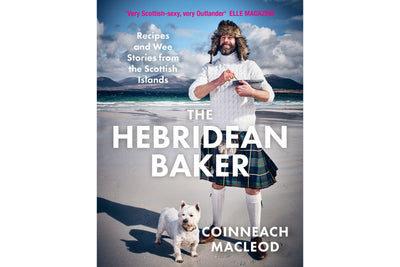 Posted on 4th August 2021
The Hebridean Baker Cookbook
In his debut cookbook, TikTok sensation, Coinneach MacLeod's comforting and homely Scottish recipes are set to inspire bakers across the world. The Hebridean Baker book offers a true taste of the Outer Hebrides and includes a recipe with our sea salt.
Inspired by family recipes and traditional Scottish bakes, Coinneach launched the Hebridean Baker on Tiktok in 2020. Twelve million video views (and counting!) later, Coinneach has motivated his followers around the world to bake, forage, learn Gaelic, have a dram or two of whisky and to lead a more wholesome, simple life.
He now shares the Hebridean Hygge lifestyle in his debut cookbook, The Hebridean Baker. Focusing on small bakes that use a simple set of ingredients, these recipes will unleash your inner Scottish baker. It's all about rustic, home baking and old family favourites because as Coinneach says 'Homemade is Always Best'.
With wholesome, traditional recipes, stunning photography, and a generous sprinkling of stories of island life and culture, The Hebridean Baker book offers a true taste of the Outer Hebrides. Published by Black and White Publishing on September 16 2021, The Hebridean Baker is set to be a delight for bakers new and old.
Click here for pre-order signed copies or here to order on Amazon.
Publication date: 16th September 2021
See Coinneach's Hebridean Gravadlax - Gin Cured Salmon recipe using our salt.