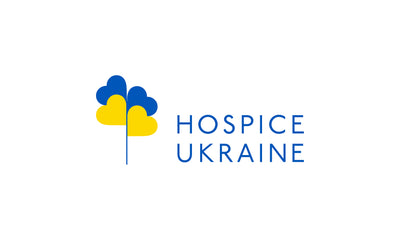 Posted on 20th June 2023
Our Donation for Hospice Ukraine
There was a very important UK-registered charity launch last Tuesday, 6th June, at the Royal Society of Medicine - Hospice Ukraine.
Founded by the dynamic Dr Rachel Clarke, Henry Marsh and Andrii Myzak, the Charity will support palliative care teams in Ukraine who are desperate for resources to support people who are at the end of their lives.
We were honoured to donate our sea salt tubs for all the goodie bags. The beautiful Hospice Ukraine logo and the programme was designed and donated by our very own design agency, 
Sanna Mac
.
Emily Maitlis and Jon Sopel hosted the auditorium event introducing eminent individuals supporting the charity. This was followed by a heart melting performance from 
dzvin

.co
.
A personal highlight was to say hi and give a hug to war surgeon David Nott, who was a speaker and who we have admired for years.
The auditorium event was followed by a dinner and live auction with amazing donations from the great and good. Lots of money was raised.
But, of course, this is only the beginning. Please add to this by donating via 
@hospiceukraine
. Every bit will provide someone with palliative care giving comfort and dignity at the end of life.